27.02.2023
AMULET LAST CHANCE MATCHMAKING EVENT is coming – SAVE THE DATE - 8th March 2023, 14:00 to 16:00 CET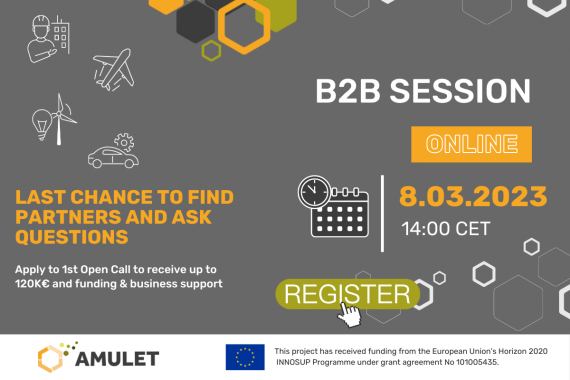 Join this MATCHMAKING EVENT and find partners to receive up to 120K euros in funding and business support!
---
Manufacturing is nowadays striving for a wiser change into a more sustainable future for post-pandemic world. As environmental concerns become increasingly important to consumers, many market sectors are shifting toward greater energy consciousness and sustainability
The project Advanced Materials & Manufacturing United for LightwEighT, AMULET, aims to benefit from the innovation potential of SMEs that will be creating new value chains by fostering the penetration of advanced lightweight materials in four sectors:
*automotive,
*aerospace&aeronautics,
*energy and
*building.
The trans-European project AMULET aims to enhance the innovation potential of SMEs through a cross-sector and funded knowledge exchange. For this reason, the second Open Call of the project will be selecting consortia of minimum 2 and maximum 3 legal entities including exclusively SMEs to lead bottom-up projects that address the development and implementation of demonstration activities around technology and systems applicable to the 12 challenge areas given. The consortium will receive up to 120K€ (60K€ for SME), plus funding and business training support.
2nd Open Call was launched on 10th January 2023 and it will be opened until 22nd March 2023!
The Amulet consortium organized MATCHMAKING EVENTS- important networking opportunities for SMEs - interested in participating in the Amulet 2nd Open Call. SMEs are able to use the platform to meet other companies to work together on their project.
Register now
HERE
at the EVENTIA PLATFORM for the AMULET MATCHMAKING EVENT!
« Back