05.03.2021
Article published in ACS Applied Materials & Interfaces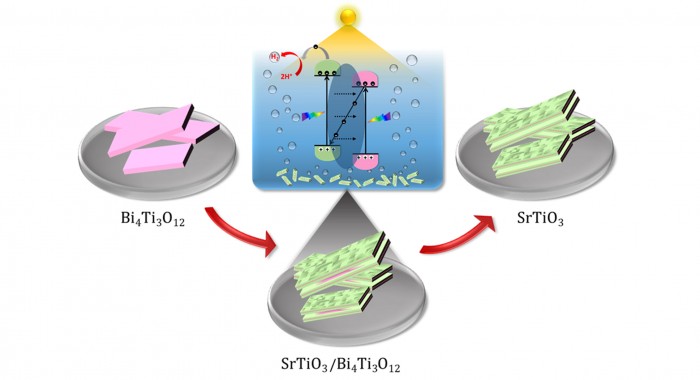 SrTiO3/Bi4Ti3O12 Nanoheterostructural Platelets Synthesized by Topotactic Epitaxy as Effective Noble-Metal-Free Photocatalysts for pH-Neutral Hydrogen Evolution
---
In the era of energy shortage and environmental pollution, hydrogen (H2) has become an important clean alternative energy source. The researchers Dr. Marjeta Maček Kržmanc, Asst. Prof. Nina Daneu, Alja Čontala, Dr. Saswati Santra and Asst. Prof. Matjaž Spreitzer from the Advanced Materials Department of Jožef Stefan Institute in collaboration with Dr. Khaja Mohaideen Kamal and Prof. Blaž Likozar from National Institute of Chemistry published an article in ACS Applied Materials & Interfaces SrTiO3/Bi4Ti3O12 Nanoheterostructural Platelets Synthesized by Topotactic Epitaxy as Effective Noble-Metal-Free Photocatalysts for pH-Neutral Hydrogen Evolution.
The authors presented a detailed description of the mechanism for the formation of novel two-dimensional (2D) nanoheterostructural SrTiO3/Bi4Ti3O12 and 2D mesocrystalline (100)-oriented SrTiO3 platelets through hydrothermal epitaxial growth of SrTiO3 on the 2D Bi4Ti3O12 platelets. They found that the SrTiO3/Bi4Ti3O12 nanoheterostructural platelets without any support of noble-metal cocatalysts show 15-18 times higher photocatalytic H2 production rate compared to commercial SrTiO3 nanopowder and mesocrystalline (100)-oriented SrTiO3 platelets in pH-neutral water/methanol solutions. All these established the as-synthesized SrTiO3/Bi4Ti3O12 nanoheterostructural platelets as a potential candidate in the research field of H2 energy.
The presented mechanism of epitaxial growth expands the possibilities for using this reaction concept in designing of new nanoheterostructural photocatalysts and other functional materials.
« Back