Members of European Lightweight Cluster Alliance
ELCA Network
Strengthening the European leadership in the field of lightweight materials and technologies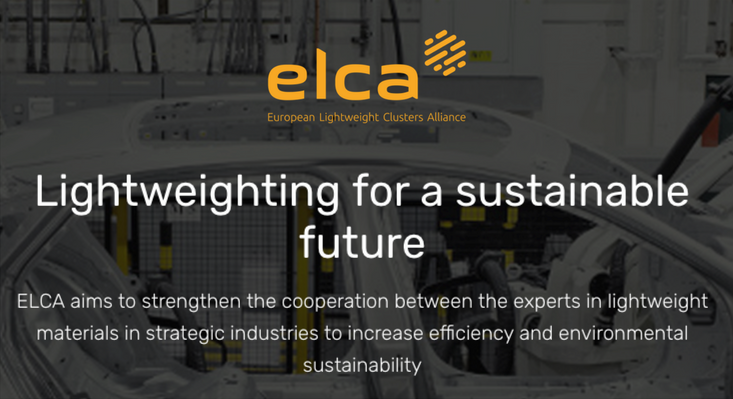 ELCA (European Lightweight Cluster Alliance) is a collaborative initiative that aims to accelerate the adoption of lightweight materials in strategic industries. The alliance will establish a unique inclusive business framework which enable the main players from established industries and research institutions to explore lightweight-driven market opportunities collaboratively, and facilitate activities to put the lightweight technologies into practice
In the lightweight domain, the Advanced Materials Department's research activities include the development of ceramic- and bio-based materials for electronic devices with new or improved properties and research on nanostructured materials with the processes for their preparation.
ELCA brings together top class lightweight researchers and facilities in which multiple and varied R&D projects are developed and further implemented at large scale, addressing the challenges and needs of industry.

December 16th 2020 - VIRTUAL GENERAL ASSEMBLY OF THE EUROPEAN LIGHTWEIGHT CLUSTER ALLIANCE (ELCA)
The members had the opportunity to review the activities carried out and the accomplishments achieved in 2020. This year the network has been consolidated, keeping 17 hubs distributed in 15 different EU countries. Moreover, the network secured 5 million € in funding, initiated 3 projects of diverse European funding programmes and submitted 4 project proposals.
The members also had the opportunity to discuss about the implementation of the activities proposed for the next year, 2021, and a calendar with milestones was presented. Everyone agreed that this year the commitment of all the ELCA members will be of great relevance for ensuring the engagement of their members: SMEs, RTOs and large corporations, which will be the base for meaningful cooperation. In parallel, seven lightweight champions and experts presented their innovation priorities in lightweighting activities for 2021 during the event.